Ice Damming - Part 1
Tuesday, January 25th, 2022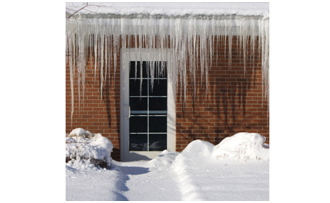 A few hard, cold facts about ice damming:
First: A water-protective membrane underneath shingles on a roof does not fight the formation of ice dams. It helps to minimize the damage the already formed ice dam will cause.
Second: It's nearly impossible to prevent ice dams completely. Mother Nature – combined with complicated roof designs – make it a matter of when not if the next ice dam will form.
You have seen the pretty icicles forming on some roofs -- hanging off the gutters. Your kids are amazed at the sight and want your house to look like that. But you know better!
Those icicles form due to ice damming. They may be pretty but they are evil! Here is a list of potential ice dam-related problems:
Damaged shingles
Water damage to the overhang (soffit and fascia), roof deck (wood rot), interior walls and ceilings
Wet attic insulation (which can reduce its R-Value)
Damaged gutters
Damaged interior floors
Framing damage
Mold
Dangerous icicles dangling from the roof edge waiting to fall
Ants (they are attracted to the moisture)
Damage to personal property (inside the attic and house)